This year I have decided to partake in the YA Sisterhood's Tournament of Heroines and I will be advocating... Tessa! From Cassie Clare's "Infernal Devices" series. As many of you who follow myblog know Cassie is one of my most favourite authors of all time so I am really excited to get the chance to represent such an amazing character (though admittedly nervous as heck- have you seen our competition? Clary? Katniss? Eek!).
I want to know why all of
you
(yes, YOU!) love Tessa and think that she deserves to win the YA Tournament of Heroes (I may even use your suggestions as to why she deserves to win the title in my defense)!
Do you love Tessa because...
She doesn't only appear in Cassie's "Infernal Devices" series but also her "Mortal Instruments" series (WHA? You didn't know that? Reread the epilogue of "City of Glass")?
Do you love her because of the Dirty Sexy Attic scene with Will? Or the Dirty Sexy Balcony Scene that Cassie has been teasing us with for months?
Do you love the fact that she loves books as much as you do?
Do you love the fact that we aren't entirely sure what she is (save for a Downworlder of some sort and save for the fact that she is by far one of the most unique and mysterious characters of Cassie's)?
Do you love the fact that she has not one BUT TWO amazingly swoon-worthy boys vying for her attention?
What about the fact that she is able to defend herself (and that she is snarky)? Anyone recall her swinging a jug at Will? Her biting Henry?
First up we will be battling Luce from Lauren Kate's "Fallen" series (represented by
Moirae (The Fates) Book Reviews
). Why do you think Tessa deserves to win over Luce*?
And here are some buttons that I made advocating Tessa- feel free to grab them from the grab box!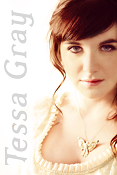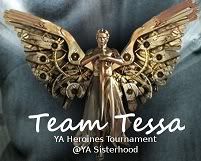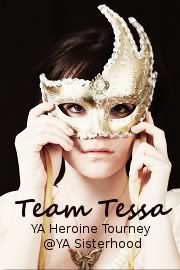 *No character bashing please! Any bashing will be deleted.
If you have any great points about Tessa from "Clockwork Prince" (those of you who were lucky enough to get an ARC I would greatly appreciate it if you could send some my way. To avoid spoilers please DO NOT post your points in the comments- you could DM me on Twitter or email me at averys.book.nook@hotmail.ca. Thanks muchly!