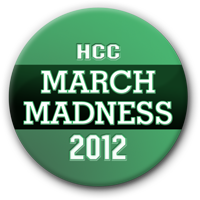 HarperCollins Canada's 5th Annual HCC March Madness tournament began this week. This tournament pits the crème de la crème of its books (64 in total) from
Marley & Me
to
Prince Caspian
to
To Kill A Mockingbird
(for a period of 6 weeks).
As their tagline states:
"64 books begin, but only 1 will be crowned champion."
Why I am so excited about this year's tournament is that one of my most favourite reads of all time, Divergent by Veronica Roth, is one of the books included (alongside a few other books that I have really enjoyed, including Ink Exchange by Melissa Marr, Airborn by Kenneth Oppel and I Am Number Four by Pittacus Lore).
So why am I telling you this? So that you will vote for Divergent! Seriously, Divergent has everything that you could ever want in a book- Tris (AKA one of the most kick-ass female characters I have ever read of before), Four (the most perfect combination of Jace Wayland's swoon-worthiness and Dimitri Belikov's warrior-godness) and a dystopian society like no other (Have you played the Divergent Choosing Ceremony on Facebook yet?).
Furthermore, it's about time that YA books received the recognition that they deserve- that they are just as good as, if not better than, their adult counterparts.
Need an incentive? One participant will win ALL 64 OF THE BOOKS INCLUDED IN THE TOURNAMENT!
So what are you waiting for? Go vote! And maybe you will find a new favourite book from reading the provided samples of each and every one included!