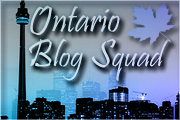 Hi y'all! I just wanted to let all of you Ontarian's know (if you don't already) about the
Ontario Blog Squad
. The blog has a wide range of bloggers who live in Ontario and it is an awesome place for everyone to get to know one another, learn about events that might be happening in your area and the occasional GIVEAWAYS!
Also, every month from now on the blog will be have a "Blogger of the Month" and I just so happen to be this month's blogger! Today on the blog you will find an interview from me and sometime in the next month I will be posting a book review.
So, if you live in Ontario and haven't done so already, I highly recommend checking out the
Ontario Blog Squad
!