Today I'm excited to have Sara Cannon, author of The Peachville High Demons series, stop by the blog to tell us a bit about her writing process- Y'all are going to want to take notes, Sarra knows what she's talking about, she's sold more than 100,000 copies of her books! ;)
Hi Avery and fans of Avery's Book Nook!! I am Indie author Sarra Cannon, and I am so excited to be here on the blog today to talk about my writing process.
I have always loved to write fiction. When I decided to pursue writing as a career, I knew I wanted to write YA. For research (wink, wink), I bought a TON of new YA books and read for months and months, analyzing what worked, how the stories I loved most were put together, and what types of characters I connected with on a deeper level. Finding my own voice and writing process wasn't easy. It took years of work and self-discovery, but when I finally figured out my best process, my writing got better and a lot more fun.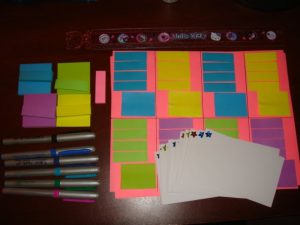 So what's my process? First of all, I keep an 'idea box'. Whenever I have a new idea, I file it away so that I don't forget. When it's time for me to work on a new project, I look through my idea box and pick a story that speaks to me. Then, I outline my idea using a three-act structure. I am obsessed with colorful post-its and pens, so my initial story grid looks like (to the left). I spend about a week or two filling in as many scenes as I can, which for me is usually only the beginning and end of the story with a few scenes peppered in here and there randomly. I definitely already have a good idea of the main characters in the story and can see them clearly in my head before I begin writing.
Then I start the rough draft. My rough drafts always suck, lol. I write in circles, sometimes with scenes out of order. Sometimes I have notes to myself that say things like, "Figure out a scene to add here that is romantic." During this stage, I usually bite my nails and swear that I'm a terrible writer. For the record, my husband hates this stage because he has to hear me whine about how the story just isn't coming together. He says I do this every single time. Ha!
Even though I think I know what my novel is about when I begin, I always have this revelation somewhere toward the end of the first draft that completely changes everything I've written so far. When I first started writing, I got so frustrated by this. Making these changes means rewriting most of the book, and I felt that I had just wasted my time by writing words that would never see the light of day.
It wasn't until I finally gave in to my true writing process that I started writing books that people actually liked to read. I no longer let myself get frustrated by the fact that most of my rough draft is completely tossed out. I actually call my rough draft my 'exploratory draft'. I know going into it now that my readers will never see most of it. I am simply exploring my idea of what the story might be. I start writing and find joy in waiting for that beautiful moment where the light turns on and the true story reveals itself to me. It feels like magic, and for me, it's one of the most exhilarating things I've ever experienced in my life.
Of course, this moment usually comes about a month before my book is due to be published, so I end up rewriting the entire book furiously in the middle of the night. For Rival Demons, book 5 of my Peachville High Demons series, I rewrote the entire book in a week just before it was published in January. It was grueling and exhausted, but it was incredibly fun and exciting. This is my process, and the more I embrace it, the faster I write. I also would like to think the better my books become, but I'll let my readers be the judge of that.
Speaking of readers, I would love to introduce some new readers to the Peachville High Demons series. Enter below to win copies of all 6 ebooks in my series, including the brand new book, DEMONS FOREVER, which will release October 29
th
. I'm also throwing in some fun swag for a US winner! And for any current fans of the series, you can still enter to win book 6 even if you already have the rest of them. The winner will be announced here on the rafflecopter and on my twitter (@sarramaria) and Facebook page Tuesday the 16
th
.
Thanks so much to everyone who stopped by the blog today, and thanks again to Avery for having me as a guest!!
a Rafflecopter giveaway