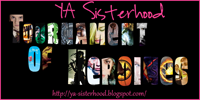 As many of you probably know by now I am competing in YA Sisterhood's YA Heroine Tournament and I could use YOUR help! I am Tessa's advocate (from Cassie Clare's "Infernal Devices" series) and for the next 24 hours Tessa is going head-to-head with Izzy from Cassie's other book series, "The Mortal Instruments". I would appreciate it more than you could imagine if you could head over to
YA Sisterhood's blog
and vote for TESSA!
About Her:
Tessa Gray, a sixteen year old American is sent to live with her brother in England after her guardian, her Aunt Harriet, passes away (both of Tessa's parents passed away when she was three years old). Upon arriving in England she learns that things are not what they seem- her life especially.
Her world is turned upside down when she is kidnapped and discovers that she has the ability to shapeshift. Upon being rescued from her kidnappers she befriends the London Institute's Shadowhunters including, but not limited to, Will, Jem, Charlotte, and Henry, alongside the Institute's staff including Thomas, Agatha, and Sophie.
Alongside the British Shadowhunter's Tessa attempts to thwart the Magister, a man hellbent on destroying the Shadowhunters through the use of clockwork creatures.
Best Attributes:
Tessa is by far one of the most genuine and modest female YA characters in my opinion, especially when it comes to her looks:
"Nate, with his fair good looks, was the one in the family generally agreed to have inherited her moth's beauty, but Tessa had always been perfectly content with her own smooth brown hair, and steady gray eyes. Jane Eyre had had brown hair, and plenty of other heroines besides. And it wasn't so bad being tall, either..." (Clockwork Angel, pg. 17)
She is inquisitive and open-minded. She loves to read just as much, if not not, than all of us and she can often be found quoting all of her favourite books:
"He didn't know what books meant to her, that books were symbols of truth and meaning..." (Clockwork Angel, pg. 97).
She is by far one of Cassie's most unique and mysterious characters (In "Clockwork Angel" we are told that she appears to be a warlock, however her true identity- or a better approximation of her identity- is revealed in "Clockwork Prince").
She can outsnark even the snarkiest of characters, Will Herondale included:
"Perhaps she's a girl who's fallen madly in love with me and persists in following me wherever I go."
"My talent is shape-shifting, Will, not acting" (Clockwork Prince, pg. 87).
Speaking of Will Herondale, she has two of the most swoon-worthy YA male characters vying for her attention (and she never lets that knowledge go to her head).
She takes everything in stride. Her clockwork angel pendant is one of the most kick-butt pieces of jewelry in the world of YA books (see "Clockwork Prince").
Let's pretend that the
Dirty Sexy Balcony Scene
is an attribute ;)
What Makes Tessa a True Heroine?
She is genuine and always remains true to her character. She is kind and has a big heart. She's still able to love those who aren't always worthy of being loved.
She is selfless beyond belief- she is willing to do the right thing even if it means hurting herself in the process. For instance, in the case of her brother:
"Nate was not like other people... He had a beautiful innocence about him that had to be protected at all costs. And Tessa had tried. She and her aunt had hidden Nate's own weaknesses from him, the consequences of his own flaws and failings. Never telling him of the work Aunt Harriet had had to do to make up the money he had lost gambling, of the taunts Tessa had endured from other children, calling her brother a drunk, a wastrel. They had hidden these things from him from being hurt" (pg. 352).
She is eager to learn about the new world that she is thrown into. She doesn't jump into things without any thought- she isn't careless, nor is she afraid to ask for help.

Why should YOU Vote for Tessa instead of Izzy?


While their is no denying that Izzy is kick-butt and that she could most certainly take Tessa down in a fight, I do believe that Tessa is more of a heroine than Izzy for a number of reasons:

Unlike Izzy who looks down upon people (especially Mundanes and Downworlders), Tessa doesn't look down upon anyone (ie. Sophie occupying a lower social status than herself, Jem being ill)- she gives everyone the benefit of the doubt without doing so in a naive way.

Tessa doesn't pout when things don't go the way that she wants to, furthermore, she is willing to do what needs to be done without complaint, unlike Izzy who has a habit of locking herself in her room, throwing temper tantrums, and throwing things at people when things don't go her way.

Tessa is not dependent upon the males in her life (nor is she careless). She doesn't play on the boy's feelings for her- manipulating them to do what she wants, whereas Izzy has been known a time to two to manipulate the males in her life, Simon especially, to do what she wants (which usually has disastrous consequences).

Anything You'd Like to Add?